Elementary School
Readiness – Grade 5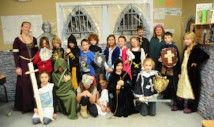 Every morning we welcome our students at the door by name because we believe in letting our students know they are important to us. Classes gather together and start their day with a morning meeting to help build class community and look ahead to the day. Our first morning core classes are math and reading. In reading class, students are generally taught in small groups of 6 to 8 students.
The day is rich with literature, history, geography, and science classes. The Core Knowledge curriculum helps us provide deep background knowledge for their lifelong academic career. Students also have an art, music, and physical education class every week.
Grade 5 is a bridge year between elementary and middle school. Fifth grade students spend most of their day on an elementary schedule, but are given a chance for accelerated math or language arts curriculum at the middle school level if they are ready. Students may also learn an instrument, play in our band, or sing in our chorus.
Integrated Technology
All students are issued an iPad to use during the school day. Technology is integrated into the curriculum using multimedia presentations, iPad apps for practice, research, and writing. Teachers present some of their lessons on the Smart Board each day. Students get hands-on experiences as well as learning 21st century technology skills.