Middle School
Grades 5 – 8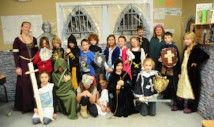 Every day our students are welcomed at the door by name. Middle School can be a difficult time, and we want your children to know they are important to us. Students start and finish their day in their Advisory class. It is where they find out about the day ahead and organize at the end of the day. Our first core classes are math and language arts, to which we devote a full hour.
Our curriculum is rich and challenging. Every day students have science and social studies classes. The Core Knowledge curriculum helps us provide deep background knowledge for their lifelong academic career.
Each week students have classes in art, music, and physical education. To help them adjust to middle school academics, students in Grade 6 have a daily study hall. Students in Grade 7 and 8 also have health and Spanish classes, although foreign language is optional. Students may learn an instrument, play in our band, or sing in our chorus.